Exclusive Custom Beat Offer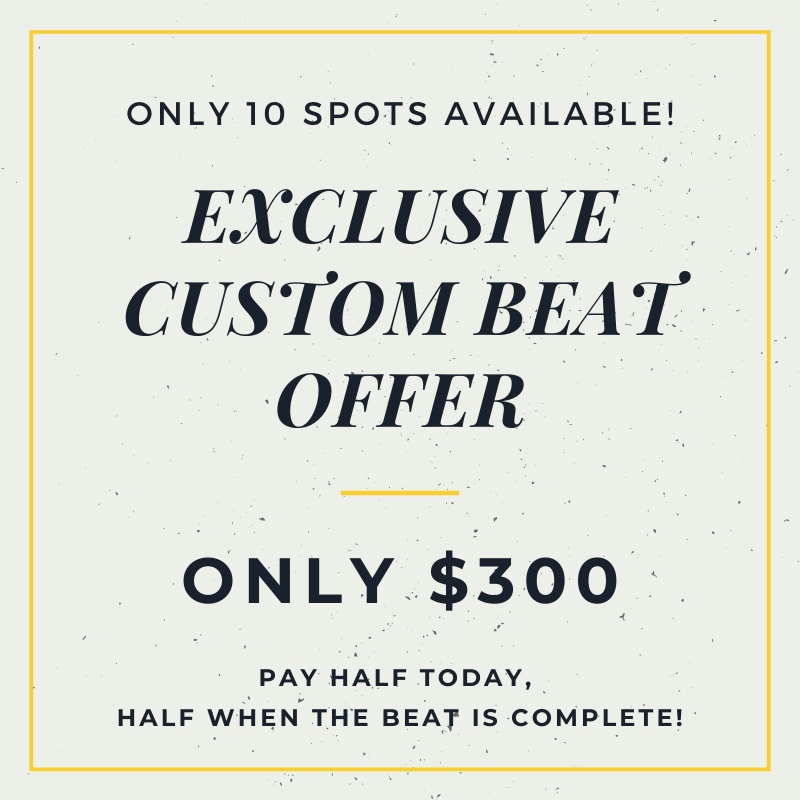 Reserve your custom beat today!
Pay half ($150) today, and the second half when the beat is complete! This offer expires December 2, 2019 at 11:59pm PST!
Normally custom made beats are $500+ but I'm offering a super rare special offer on beats made from scratch for 10 special artists. Reserve your spot today, even if you don't need the beat for another 6 weeks or 6 months!

What is a custom beat? A custom made beat is a beat that is made from scratch based on the specific feeling, sound, vibe, inspiration, and potentially even lyrics and melodies you already have in mind. Yes, if you have melodies or lyrics already in mind, I can work with you to make a beat that fits.


You will need to redeem your custom beat before June 1, 2020. Failure to do so will not result in a refund of your downpayment.
This offer ends December 2nd at 11:59pm PST!
DETAILS:
In order to make your downpayment, use the link below.
Once I receive the first half payment, expect an email from me within 24 hours requesting more information on what you're looking for in the beat. If needed, we may schedule a phone call to go over the song to help me have the best understanding of your artistic style.
There are only 10 spots available for this special offer.
I will start working on beats in the order that they come in so if you want me to get to work on your beat right away, make sure to get your downpayment in ASAP.
Feel free to email me if you have any questions. I can be reached at malek@malekbeats.com!